Schools of Thought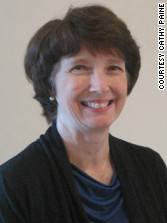 By Cathy Paine, Special to CNN
Editor's note: Cathy Paine is a school psychologist in Springfield, Oregon, and chairwoman of the National Emergency Assistance Team for the National Association of School Psychologists. She was a panelist at the White House Summit on School Violence Prevention in 2006.
This week, Schools of Thought publishes perspectives on school security. Tomorrow, a school resource officer explains his role in campus security.

(CNN) — I received the emergency call at 8:14 a.m. on May 21, 1998.
Eighteen minutes earlier, a 15-year-old student had entered Thurston High School armed with two handguns and a semi-automatic rifle, and in a matter of seconds, killed two students and wounded 25 more, some sustaining life-long injuries. As a school psychologist in Springfield, Oregon, I was called because of my role on the district's crisis response team. In a few short moments, we were transformed from…
View original post 972 more words